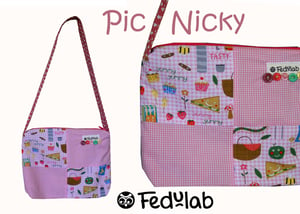 €

16.50
PIC NICKY is a Kids Bag Purse. Every little girl will love this bag and can now take her bag with her when she goes out; just like mum!
I have used the Picnic Fabric from Timeless Treasures with cute, smiling picnic items on a pink checkered background.
Pic Nicky is lined with a cotton fabricfront and has a zipper closure for security.
Each bag is handmade and one-of-a-kind.
Dimensions: 23 cm height x 27 cm width
Exterior: Picnic fabric cotton from Timeless Treasures
Shoulder strap: 76 cm
Care: Gently handwash
If you have any questions, please feel free to contact me!